Wild Board. Cod: Cód: 2711 (CLOSED PRICE)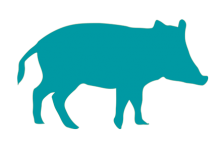 Description:
Quarter: Triollo.  Duration of the hunt: 1 day.
 
The winner will be in charge of the organization of the hunt, except the placement of positions that will be carried out by the nursery
The maximum number of hunters (excluding whippers and / or dogs) will be 25 and the minimum of 20 , the hunt being permanently suspended if at the time of starting this number is not reached.

The OUTPUT PRICE will be considered as TAXABLE, the award price will be increased by 21%VAT.
You will not be able to double the positions. In the event that two hunters go to a post they can only carry a weapon.
Included in the starting price is the 
BASIC PACKAGE
 of services to the hunter.
The supplementary fee is included, according to ORDEN FYM / 436/2014, of May 19, which regulates orderly hunting and hunting in the Regional Game Reserve of Castilla y León.
Hunting date:
Saturday, 15 February, 2020
To avoid problems with the bids, it is advisable not to wait until the last seconds of the auction so you will not have unexpected behavior between your web browser and the data server.
Read more
Closed auction